Will Acoustic Treatments Ruin My Home Theater's Design?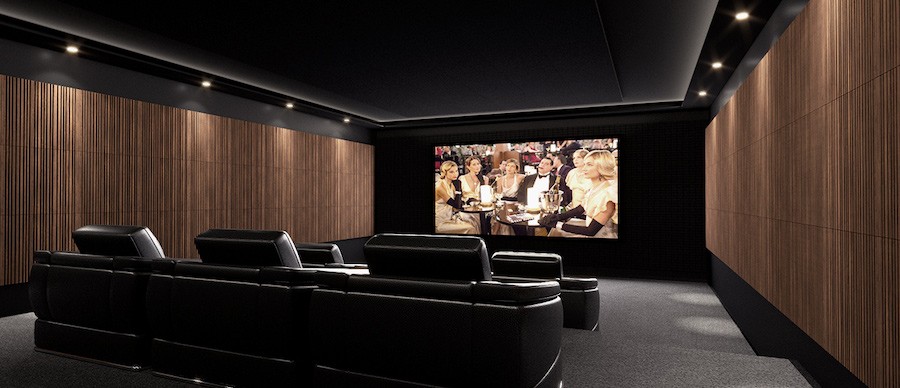 Not With Our Home Theater Installations! Here's How We Merge Acoustics & Style
If you're building (or already own) a home theater, you'll need acoustic treatments. When speakers play, sound waves bounce off walls and cause reverberation or 'reverb.' In a home theater with several audio channels bouncing around the room, that can cause a lot of reverb, which distorts the sound. Low, rumbling bass notes may overpower the space, and you'll miss small audio details and dialogue.
Acoustic treatments are so important we've written a separate article about how they can make or break the home theater experience. But when it comes time to install acoustic treatments, you may wonder, what will they look like? And will they ruin my home theater's look?
Acoustic treatments don't have to take away from your home theater's aesthetic. In fact, they can even enhance the atmosphere. Here's how we merge style and acoustics for home theater installations in Fishers, IN.
SEE ALSO: Notable Product Highlights for Your Home Theater
Wooden Wall Panels
Our acoustic partner Artnovion manufactures beautiful, modular wooden panels (pictured above) that can cover any sized surface. The wooden panels absorb incoming sound waves to reduce reflections, while the grooves scatter energy to balance sound. The simple, discreet panels are also available in lacquered and natural wood finishes, so you can achieve any desired color.
Geometric Panels
In our home theater installations, we also use fabric panels in geometric shapes that help scatter and absorb excess sound waves. From Artnovion, the Valley CS panels create abstract shapes and can be connected in geometric patterns with customizable covers. There are plenty of suede and weave fabrics to choose from, in colors ranging from Red Wine to Snow White.
Acoustic Innovations, another acoustic panel manufacturer, offers modular, geometric wallscapes in six shapes, three sizes, and 36 colors. From hexagons to circles and squares, we can build a wall design that looks modern and stylish while absorbing sound.
Starry Ceiling
That's not just a starry night ceiling above your theater—it's also an acoustic panel! A Starry Night fiber optic ceiling uses small LED lights to create a celestial ambiance. Acoustic Innovations' starry ceilings are made with acoustically absorptive panels that improve the room's audio. We can connect the starry ceiling to your lighting control system, too, so it's easy to turn on alongside the rest of your theater's lighting.
Minimalist & Discreet Panels
Maybe you don't want to call any attention to the paneling and just want a seamless, smooth wall. Artnovion's Helen CS panels have a neutral design that will blend into the room's interior. Over at Acoustic Innovations, their Concerto Stretch Wall system is installed flush to the theater's walls so that you won't see the acoustic treatment panels.
You can achieve incredible acoustics and a beautiful design when you partner with a professional home theater installer. Contact The Premier Group here to kick off your home theater project. We look forward to working with you!