What Speakers, Screen, and Décor Should I Consider for My Home Theater?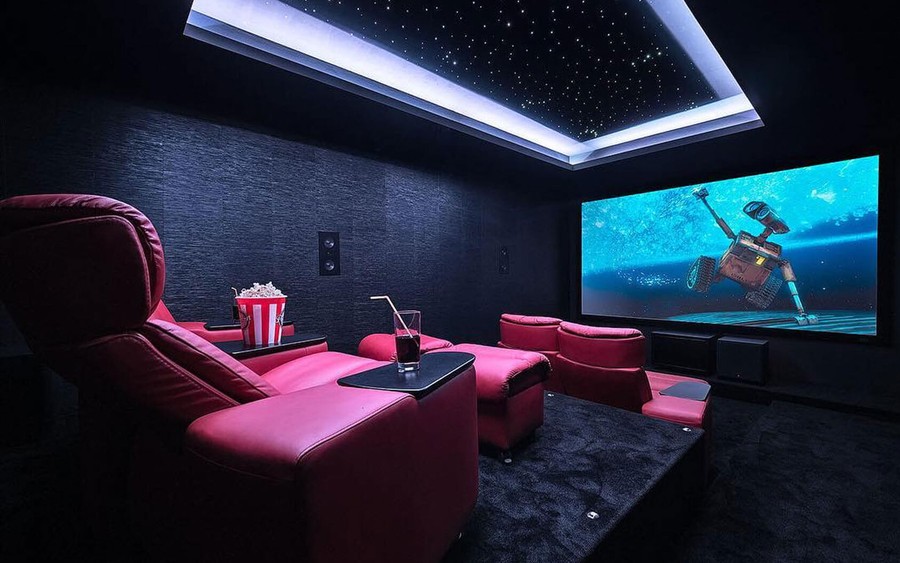 Know Your Options for the Best Home Theater Installation
So, you're thinking about building a home theater. There isn't a better space to have as a homeowner—perhaps competing only with a pool. But your home theater can be utilized throughout the year. If you aren't already enjoying immersive visuals and spectacular sound on your movie nights, and if you consider yourself a film buff, then it's time to upgrade.
But getting started with a home theater installation can be a confusing sea of speakers, screens, and devices. Which should you trust for the best quality?
As a home theater installer servicing Fishers, IN, and the surrounding area, we're up to date on the latest home cinema technology. We'll share our top picks below so you can get inspired for your Indiana home.
SEE ALSO: Home Theater System Essentials for the Indiana Homeowner
First, Find a Quality AV Receiver
The receiver is the brains of your home theater system. It connects and switches your audio and video sources, whether that's a Blu-ray player, Apple TV, game system, or other sources.
The ideal receiver includes an AV processor and amplification in one device, like Anthem's MRX Series. You'll control the volume, send video content to your screen, and power speakers from the receiver. Want to take control even further? Integrate your receiver into a smart home system to do it all from your phone or tablet!
Connect Speakers and Subwoofer
If your goal is to enjoy movie theater-grade audio, you won't want to skimp on the surround sound setup. A basic arrangement should include a center channel speaker (essential for dialogue), a front right and left speaker, a rear right and left speaker, and a subwoofer. More complex arrangements, like a Dolby Atmos 9.1 configuration, would add two surround speakers and two in-ceiling speakers into that mix.
High-end audio brand Bowers & Wilkins offers a variety of home theater bundles with everything you need, making it easy to get started at any budget. You can start minimal with in-wall speakers and a single subwoofer, or expand with Dolby Atmos speakers for 'immersive' sound and dual subwoofers to really pack a punch!
Choose a High-Resolution Projector and Screen
Home projectors used to get a bad reputation for looking washed out and faded. But if you've been to the movie theater, you've seen how high-quality a projector can look. However, to achieve that image standard, you can't just throw a video onto the wall and expect perfection.
You'll need a screen with a higher gain (the ratio of light reflecting from the surface) for a brighter image. Ambient Light Rejection screens will give you the vibrant colors and dark blacks you want, reducing fade. And to achieve that movie theater look, you'll want to eliminate any ambient light from windows, doors, hallways, etc. Motorized shades make this easy to achieve. Screen Innovations, one of our preferred brands, produces motorized projector screens and window shades that you can lower with one tap of a button.
Source the Perfect Furniture
You've got amazing audio and the perfect picture—but what will you sit on? You want this room to feel like a real cinema, so you'll need true cinema seating. That can be hard to come by at a typical furniture store, but Acoustic Innovations builds theater-style seating that makes any spot the best seat in the house.
Acoustic Innovations also creates room finishes including starry night sky systems that will give your theater a constellation-speckled ceiling. Their customizable wallscapes and acoustic panels let you get creative with your theater's interior, making it one of a kind.
Ready to Install?
If you're a determined fixer-upper, you could try to build a home theater on your own. But if you're not an expert with in-wall wiring, acoustical treatments, soundproofing, and the screen-to-seat ratios—maybe it's time to enlist help from the pros.
The Premier Group is Fishers, Indiana's destination for home theater installations since 1999. With additional expertise in smart home technology, we can build a system that you'll control from one tap on your phone. Contact us here to discuss your dream home theater today.