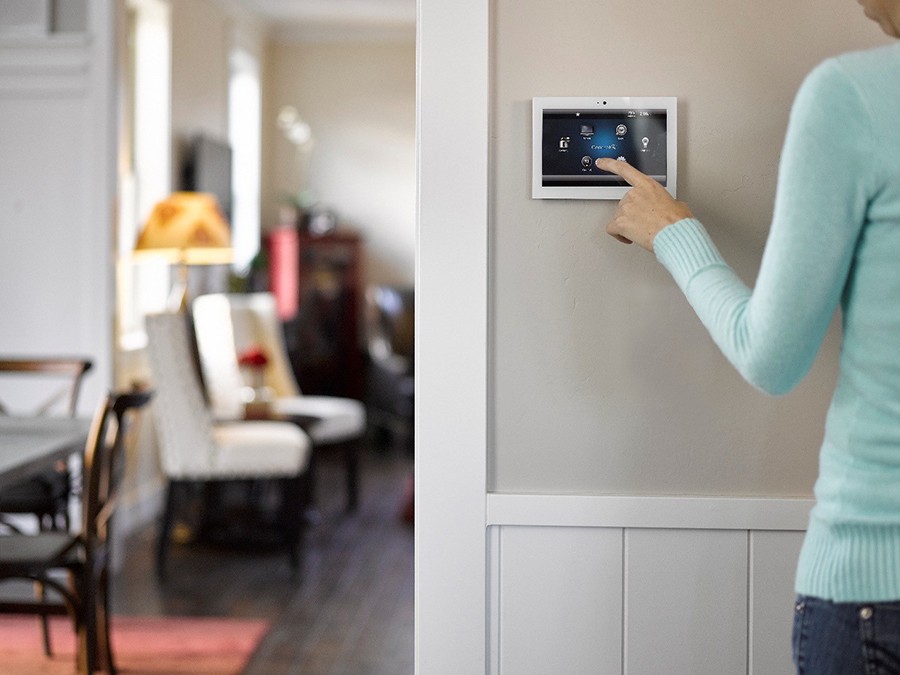 There are a lot of reasons a homeowner may want to install security cameras. In the old days, families used security alarm systems to scare away invaders with sound and alert the police. Sometimes, criminals could find ways to avoid setting off the alarm, or the police wouldn't arrive in time to make the arrest. Today, surveillance cameras provide the solution of capturing the robber's activity on video so that even if he gets away, you have at least captured his face and actions. In addition to protecting your home from intruders, there are many ways you can use security cameras in an integrated control system, such as checking in on children, monitoring house staff or babysitters, keeping an eye on the pool, driveway, or play area, and managing your entry system. Read on to learn more.
SEE ALSO: New and Improved Security Cameras


Monitor Every Room in Your Home Remotely
Going to Disney World for vacation? You can make sure your home is safe and in good condition at all times with an app on your phone. Use your smartphone to view various cameras around your home or let the system update you with text message alerts. If a person hops the fence and enters your backyard, you'll know it with real-time updates and video clips of the intruder. You'll be able to determine if it's a stranger, or just a neighbor or mail man, and then act accordingly. If you are busy riding space mountain, you can play the recorded video later at your convenience.

Act as a Gatekeeper with Surveillance and Access Controls
Video surveillance solutions not only help protect your home, but they also assist with daily activities. When the doorbell rings, pull up the video outside your front door and check who it is. If it's a friend, the delivery guy, or your spouse who forgot their keys, simply press a button and let them in with your automatic keyless entry system.

Capture Activity with Motion Sensors
It would definitely waste a lot your time if you had to sit and watch hours of video to find the recorded action you are looking for. Motion sensors help by triggering the security cameras to turn on when someone enters a room. That way, you'll only get video clips when it matters. So if your daughter arrives home from school, the camera detects her presence and sends an alert to your phone. By programming your surveillance cameras to only track movement and activity, you'll save memory space and only get notifications when it matters.