Make Your Backyard a Lively Outdoor Entertainment Hub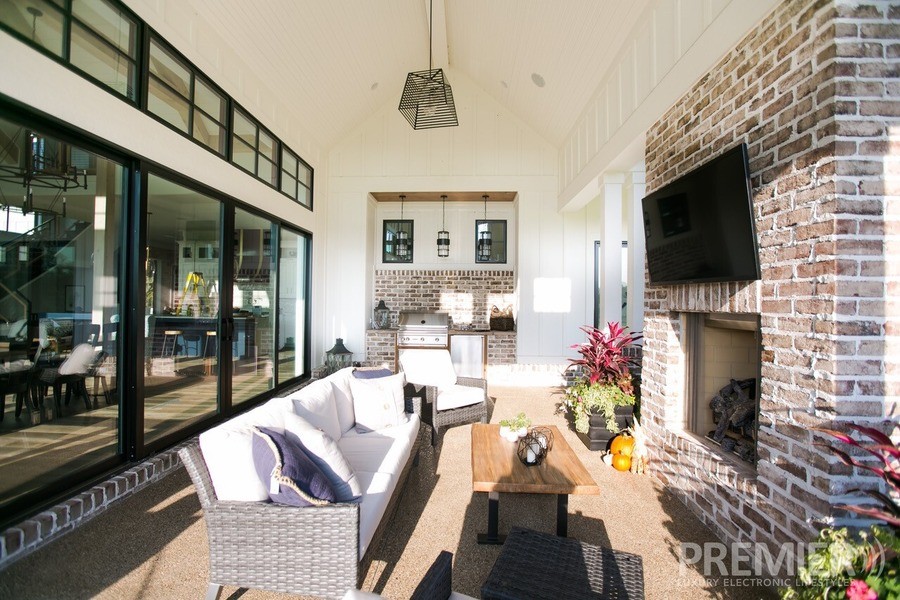 Learn How Premium AV Solutions Can Expand Your Home Entertainment Experience
Are you getting the most out of your outdoor space? Your backyard may look lush and lovely from the windows, but it could be so much more than a picturesque scene. Instead of simply admiring your lawn, turn it into an outdoor entertainment space that excites your senses too. The Premier Group can design a robust outdoor AV system that creates a welcoming and enjoyable environment for you, your family, and your friends.
Don't settle for a few speakers on the patio and a TV display that fades into the background when the sun comes out. Keep reading our blog to see how you can give your outdoor AV experience a big boost at your Carmel, IN, home.
SEE ALSO: Beautiful andFunctional Lighting Ideas for Your Backyard
Music, Music Everywhere!
If you have a whole-home sound system, then you already know the experience of soaking yourself in music wherever you go. No matter where you are, the sound of hi-fi audio tickles your ears and pounds in your chest. But why keep the fun indoors?
And no, we're not talking about two outdoor speakers on your patio. Even though premium loudspeakers provide amazing sound quality, two of them won't give you the immersive sound you want – like you're at a live concert. Outdoor speakers from Coastal Source and Sonance guarantee anoutdoor audio experience like no other. By properly positioning wall speakers, ceiling speakers, in-ground subwoofers, and landscape speakers throughout your yard, The Premier Group takes whole-home audio and expands it to every square inch of your property.
Bright and Beautiful TV Displays
Movie-watching doesn't need to beonly anindoor experience. But before you drag a TV outside and mount it on your patio, there are a few things you need to know. While indoor TVs provide colorful, bright displays in your home theater or living room, they can't compete with the sun. If you mount it outside, when the sun comes out, everything fades to gray.
However, a SunBriteTV lets you watch movies and TV programs outside inpartial and full sun. They're specifically designed to provide the color, contrast, and brightness needed for outdoor viewing. For instance, SunBriteTV'sPro 2 Series is 3X brighter than an indoor TV display, delivering a brilliant and vivid picture in even the brightest outdoor environments. The company also features a partial-shade model. All of SunbriteTV's series are weatherproof and can handle extreme temperatures. So, you'll enjoy the clearest picture possible in any weather.
Would you like to find out more about creating the perfect outdoor entertainment environment?Get started by calling The Premier Group at (317) 580-1032or filling out our contactform. We look forward to hearing from you.