How to Have a Truly Customized Home Theater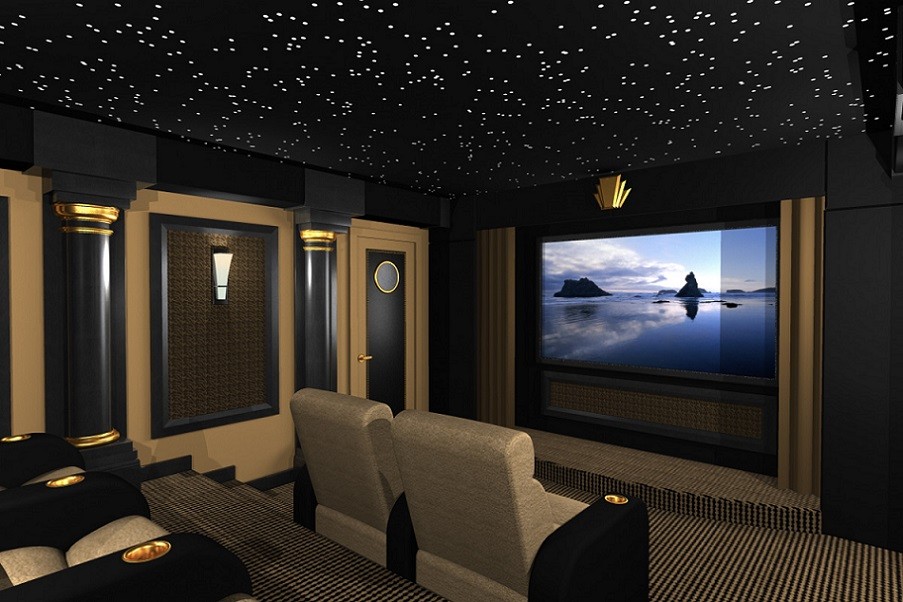 Home Theater Design That Rises Far Above the Ordinary
Over the past year and a half, home theaters have become increasingly popular. Unable to watch films in actual movie theaters, many luxury homeowners have decided to make their spare rooms into home entertainment spaces. If you enjoy watching movies, binge-watching TV shows, or enjoying live sports in the comfort of your own home, then a private cinema is the perfect choice!
However, a posh private cinema is equipped with more than a state-of-the-art display and surround-sound system. Instead, you want one that captures the imagination and sets the scene for an amazing entertainment experience. The Premier Group, along with Acoustic Innovations home theater seating and ceiling fixtures, can make it happen for you. Keep reading to learn how you can fully customize your home theater design in Fishers, IN.
SEE ALSO: Notable Product Highlights for Your Home Theater
Any Way You Want It!
When you purchase something – a car, a home, or a new gadget – you want it to be completely customized to suit your needs. Unfortunately, that can't always happen. Instead, as in the case of a new car, it can only be customized so much. Even a new home build may have certain limitations. However, a home theater can be completely personalized to suit your needs and personality.
For instance, Acoustic Innovations offers four home theater design styles: classic, modern, art deco, and themed. And each style has a virtually unlimited palette of options in wall décor, doors, acoustic panels, lighting control, thematic elements, and seating. For instance, a themed design includes everything from futuristic "Star Trek" to ornate décor or sports. Your imagination is the only limitation.
The Ultimate in Comfortable Seating
Why settle for a sofa or chair when you can sit in a handmade seat that is specifically designed for your home theater? All theater chairs from Acoustic Innovations are handmade with the finest materials. Best of all, the company offers an array of customization options – from cup holders and power recline features to tablet consoles, lumbar support, USB chargers, and much more! Their comfortable luxury chairs are available in leather, faux leather, velvet, and UltraSuede.
Captivating Fiberoptic Ceilings
Give your theater depth while creating an immersive environment. A fiberoptic ceiling enhances your movie-watching experience both visually and acoustically. Acoustic Innovations creates fiberoptic ceilings with absorptive panels to ensure the perfect listening space. When you listen to audio through your Bowers & Wilkins speakers (powered by an Anthem amplifier), you'll truly feel immersed in every moment of your movie – due to the acoustic treatment on your ceiling. You can even add a "shooting star" element!
Acoustic and Design Treatments
Before you settle back in your theater seats, lower your Screen Innovations screen, and tap your smart home tablet to start the show, don't forget one important element: the acoustics. Without the proper acoustic treatments, the sound will bounce around in your room, creating a chaotic listening experience – not an immersive one. Acoustic Innovations designs absorptive or reflective hard-surface paneling to provide advanced audio performance within your home theater.
Lest you think acoustic panels are unattractive, they aren't! Instead, they can take the form of design features in your home theater, such as attractive columns, tufted doors, decorative wall fabrics, custom-themed paneling, and cabinetry.
Upgrade your idea of a custom home theater with help from The Premier Group. Would you like to know more? Call us at (317) 580-1032 or fill out our online contact form to schedule a consultation.