How to Add Music to Your Whole Carmel, Indiana Home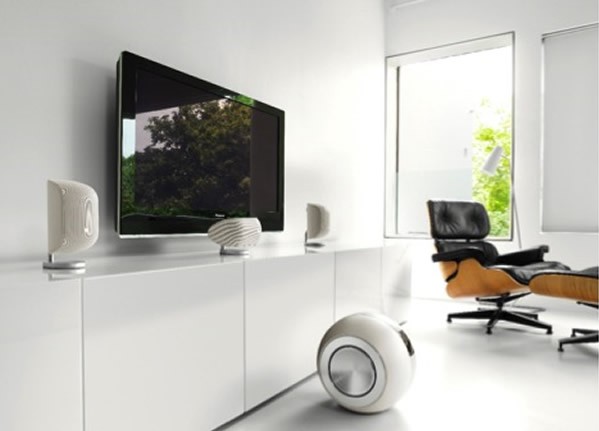 If you are fond of music you might add a couple nice speakers to your house, but if you're a fanatic, you're going to need more—more speakers, more power, more music options and a sophisticated system to control everything. That is where we come in. If you're an audiophile and only want the best of the best audio equipment, or if you simply want a multi-room music system to party in every room, The Premier Group can install the right whole house music system that meets your needs and your budget. Here are some ways we can add music to every space in your Carmel, Indiana home.
SEE ALSO: What Speaker Options Provide the Best Music Streaming Experience?

Install Wireless Speakers in Bedrooms, the Home Office, and the Backyard
If you're looking for a simple solution to add music everywhere, Sonos wireless speakers are a great choice. You can simply set them on a bookshelf to stream songs from the Internet--like Pandora, Spotify, and Sirius XM Radio. Since there is no wiring work involved, we can help you set up the placement of the speakers, install the Sonos app, and provide any assistance with the products.
However, if you want great hi-fi sound like Sonos, but want to save more space and conceal equipment, then Sonance is a better option. With this solution, our team installs speakers in the walls and ceilings and does all of the wiring work for you so that it's integrated into your smart home. There won't be any clutter, and you can draw attention to your beautiful furnishings rather than the speakers themselves. Sonance also has outdoor speakers suited for any weather so they perform well in every season.

Add Dolby Atmos Sound to Your Home Theater
The way to transform your home theater with realistic sound is by installing Dolby Atmos-compatible equipment. With the inclusion of overhead speakers, they have introduced a new concept: 3D audio.
Traditionally, soundtracks confine all the sounds to designated speakers, or "channels", which can only be heard from a few angles. However, with Dolby Atmos, the sound is freed from these channels and can be separated into different segments. Consequentially, the sound can be moved anywhere in a three-dimensional space. The system can then create lifelike sound so you feel as if you are right inside the movie.
For example, in an action film, an explosion on the screen that happens in the air would be sent via a speaker above you, while the rest of the components, like the actors' voices or music, would go through the speakers around you. The Dolby Atmos system not only transforms your experience, but also evokes more emotion since you can see and hear the story as realistically as possible.

Put 2-Channel Loudspeakers in a Dedicated Listening Room
By dedicating a separate space for listening to music, you can create the perfect environment to enjoy your favorite playlists. Bowers & Wilkins offers beautiful loudspeakers that can produce high-resolution sound. As a certified dealer, we can provide the speakers, subwoofers, amplifier as well as all the acoustic treatments. With a variety of speaker styles, finishes, and audio accessories to choose from, you are sure to find a 2-channel set-up you'll love.

To add music to every space of your home, or maybe just a few rooms, give us a call at 317-580-1032 or fill out our contact form online.