Have You Considered an Ultra-Short-Throw Projector?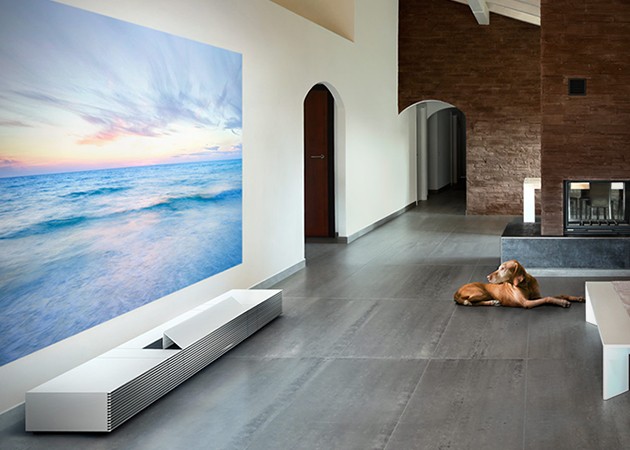 Discover How You Can Update Your Home Theater System with Sony's UST
You don't live in an ordinary home. Instead, it's likely a luxury, custom home that is specifically designed with your preferences and lifestyle in mind. From the floors to the paint color to the home décor, you've selected everything to achieve the perfect look and feel in your home. So, why should your home entertainment space be any different?
In our previous blogs, we've gone into depth about designing and setting up a custom home theater system in your Carmel, IN, home – one that immerses you in your favorite movies, music, and media. In this blog, we'll show you how Sony's ultra-short-throw projector helps you optimize your visual experience and the room to achieve the aesthetics you want. Keep reading for all the details.
SEE ALSO: Designing A New Home Theater Is as Easy As 1, 2, 3!
Why You Need a UST Projector?
At one point in time, having a visible projector in your home theater would have created a cinematic effect – making your home look like a movie theater. However, things have changed. Many homeowners prefer to hide their tech, such as speakers, projectors, and even TVs (when they're not in use). The ultra-short-throw (UST) projector by Sony is the perfect solution for those who want a sleek style in their home theaters.
The projector not only casts an amazingly clear and vibrant image on your screen, but it does so from less than one foot away. Place it up against the wall on a table or cabinet, and you won't even notice it's there. You'll enjoy a colorful and bright display that comes alive right before your eyes. And don't worry about screen size. The UST projector's image can expand to as large as 120 inches.
Do you have space concerns in your private cinema? That's not a problem with the UST projector. Regardless of the depth and width of your room, Sony's projector offers the ideal solution for any space. So, no matter where you or your guests sit in your home theater – you'll enjoy an incredible image from one end of the screen to the next.
Not Your Average Projector
Movie theaters offer a bigger-than-life experience that people long for. Several decades ago, commercial theater systems like the surround-sound system and the big-screen display were technologies most homeowners couldn't have at home. Now, a state-of-the-art home theater system is not only achievable, but it can surpass what you'd find at the movie theater.
The Sony UST projector plays a big part in making this happen. The native 4K projector delivers more than 8 million pixels and uses a Z-Phosphor, 2500 lumens laser light to produce incredibly realistic images. Also, Sony's 4K SXRD™ display technology developed ensures an ultra-fast response rate – 2.5 milliseconds. That means everything you watch is clear and blur-free. Once you put the UST projector in your theater, you may never go back to movie theaters again!
Would you like to learn more about Sony's ultra-short-throw projector? Call The Premier Group at (317) 580-1032, start a chat on this page, or fill out our online contact form to get started. We look forward to hearing from you.