Everything Is Better in a Crestron Home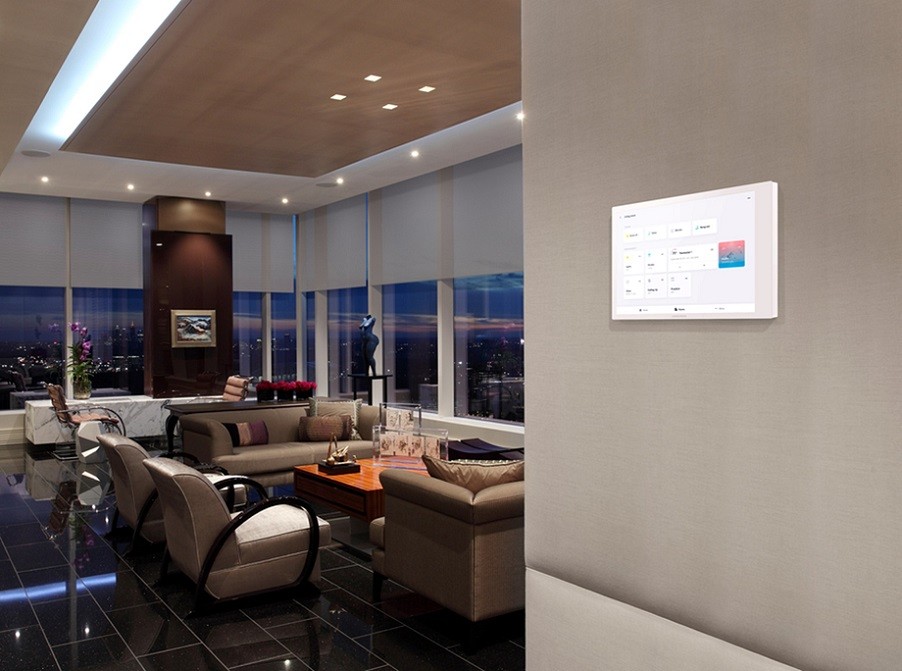 The Top 3

Smart Home Solutions from an Experienced Crestron Dealer
Living is easy, enjoyable, and lavish with smart home automation. Nothing is truer than when it's the Crestron Home™. For more than 50 years, the company has been designing, manufacturing, and distributing control technology for homeowners. So, they know a thing or two about making automation an integral part of people's lives.
Throughout the years, Crestron has refined their systems and products to be smarter, sleeker, and a lot more fun to use. From lighting controls and home theater systems to outdoor entertainment and home security, you enjoy complete and seamless access to every connected technology in your Fishers, IN, home – just by tapping an icon, a wall panel, or by using voice control.
The Premier Group is a leadingCrestron dealer that makes it all happen for you! Keep reading to learn the three ways the Crestron Home elevates your lifestyle.
SEE ALSO: How Smart Home AutomationBrings Innovation to Life
Light Up Your Life with Crestron
What does it mean to live a luxurious lifestyle? In the last century, it meant having the latest and greatest technologies, such as electric lights, cars, refrigerators, televisions, and computers. Across the ages, technologiesand inventions have always enhanced our lives and elevated our level of luxury.
Enter the 21st century where smart technology has taken over. Home automation is about control, comfort, and extravagance. And what better way to enjoy your home than by seamlessly controlling all the lights throughout your property?Lights play a significantrole in adding ambiance to your rooms. With the Crestron Home, you enjoy one-touch command of the lighting system in every room. Instead of manually adjusting the lighting via a traditional wall switch, your Crestron Home system puts the power at your fingertips with a touchpad, a smartphone app, or an elegant wall panel.
Smart lighting is anything but ordinary. Itis tunable as well – changing hue and luminosity on command. Let's say you want to set the mood in your home theater. It's easy to do. Program your lights to emit the color and brightness of your choice. When it's time for the film, tap "Movie Night" on your Crestron tablet, and the lights adjust to their pre-programmed setting. So, there's no need to get up and do anything. You can do the same thing for every room in your house. Program a scene or even a schedule, and your lighting system responds.
Get Ready for Entertainment!
Not so long ago, HD TVs were all the rage. If you had one in your home, you were the envy of your neighbors. How things have changed for the better! Today, we have 4K UHD TVs and 8K TVs. Even 4Ks from a few years ago can't compete with today's advanced models from Sony and Samsung. Crestron makes it easier to control your high-end screens and speakers from one intuitive system. There's no need to run around the room grabbing different remotes and flicking switches. With Crestron, it's all-in-one.
The fun doesn't stop there. Whole-home audio transforms the way Crestron homeowners listen to music. With high-end speakers and subwoofers in every room, you turn your entire home into a music venue. Want to listen to classical music, the latest hits, rock, or Disney tunes? Tap your Crestrontablet, select your playlist, and pick the rooms. In fact, with a multi-channel system, you can play separate playlists in different rooms in your house, so all your family members can enjoy their favorites songs.
The Flexibility of Crestron
There's much more we could say about Crestron. Lighting and home entertainment aren't the only smart technologies you'll fall in love with. Add to those smart security, climate control, outdoor AV, motorized shades, and more. The Crestron system can be completely customized to suit all your luxurious lifestyle needs.
Learn how you can enjoy lifewith the Crestron Home by reaching out to The Premier Group. Call (317) 580-1032 or fill out our online contact form to get started. We look forward to hearing from you.